When the weather gets colder and the seasons change from summer to autumn to winter, our gardens tend to get neglected. And if you have a real grass lawn or garden, it can be a real problem. Real grass faces lots of issues this time of year. It can turn your garden into a mud bath, it becomes waterlogged with not-so-good-looking brown patches everywhere. This all makes it incredibly high maintenance and makes your garden look dull, dreary, and maybe not your favorite place to be like it once were in summer.
Aavana Greens artificial turf is the ideal alternative to real grass. This is because it suffers from none of the same problems that real grass is susceptible to. It stays green all year round, it's mud-free, and it's not impacted by cold and wintry weather. In this blog, we will tell you why artificial grass is much better than real grass during colder months of the year
Are you curious about whether artificial grass can get damaged in the winter?
Artificial grass is extremely durable and can handle weather extremes, being water-resistant with quick drying time. The first thing to know is that you can rest assured that synthetic turf can withstand extreme fluctuations in weather, including freezing temperatures and heatwaves. The second thing to know is that your fake grass is not going to freeze to the point of becoming brittle and breaking if stepped on like natural grass will, due to the water content in the blades of natural grass
Snow, ice, and frost in the colder months may temporarily harden your artificial vertical garden.
These effects are temporary and your grass will return to its normal soft and cushioned self once melted. Ready to enjoy again in the summer.
Another effect you may be worried about is all the excess liquid that comes with winter.
You'll be pleased to know that an artificial vertical garden features drainage holes for excess moisture and water. So no need to worry about flooding and waterlogging.
Unlike natural grass, those puddles will be drained away without leaving you with those pesky dried-out patches. Your artificial grass will continue to deliver that stunning evergreen landscape.
1. Artificial turf stays green all year round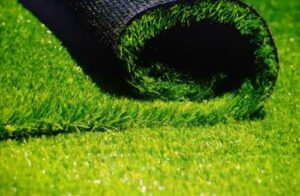 Our artificial grass stays green all year round, even in the colder months. So even when the sky is grey and the leaves are brown, your lawn will be vibrant green. The artificial vertical garden keeps your garden looking neat and tidy all year round, so you don't have to worry about its lush, authentic appearance tarnishing or changing with the seasons.
2. It never gets muddy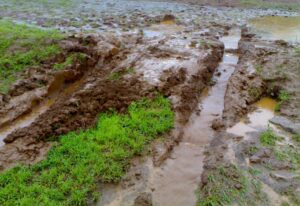 Unlike real grass, artificial grass never gets muddy, so you can let your kids run around outside on it in autumn and winter without worrying about mud. If you are a pet owner & you're fed up with pets getting muddy and bringing mess into the house every time they go outside, an artificial vertical garden is a perfect solution for you. Dogs won't tear up the lawn, dig holes, or turn the garden into a mud bath. No more muddy patches, no more dirty pawprints on the sofa, no more keeping the dog inside when the garden is wet.
3. Highly durable in cold weather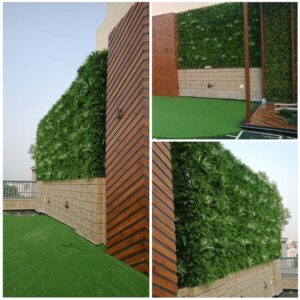 Winter can destroy your real grass lawn. Winter kill refers to severe damage or death caused to your lawn during winter due to conditions such as snow mold, cold desiccation, and crown freeze, in which the cold weather and low temperatures can leave your lawn with brown and bare patches. However, artificial grass is not susceptible to winter kill and is not impacted by low temperatures and cold weather. It is highly durable and way more robust than real grass as can withstand rain, snow, frost, ice, and wind. The artificial vertical garden has a life expectancy of 15 years.
4. Excellent drainage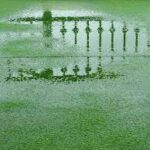 Unlike natural grass, artificial grass is not susceptible to flooding. Our turf drains quickly, so your lawn won't get waterlogged or flooded in the heavy rain often experienced in autumn and winter. Real grass can't cope in wet weather, which results in poor drainage and a lot of mud, and leaves your garden unusable. It's also very difficult to recover drowned and soggy grass and bring the grass back to life. However, when installed correctly, artificial vertical garden has excellent drainage properties when it rains or snows and, in many cases, will dry quicker than natural grass.
5. Low maintenance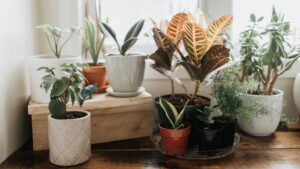 The artificial vertical garden is low maintenance. In contrast to natural grass, it does not need mowing, watering, feeding, or re-turfing – simply remove debris using a leaf blower, brush, or rake, and if the grass gets dirty, hose it down using detergent and a brush. This means you don't need to spend loads of time and effort bringing your lawn back up to health after winter has destroyed your lawn like you would with real grass. Artificial vertical garden stays in perfect condition whatever the season, so when it comes to sorting out your garden in spring, you won't have to worry about revitalizing the lawn every year. And less time maintaining means more time enjoying your garden when the warmer weather comes around.
6. Safety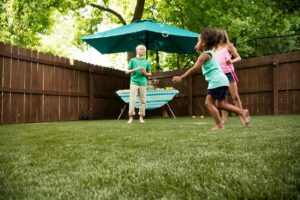 Faux grass still has more grip and safety than other outdoor surfaces such as patio and decking, which can become extremely slippery during wet and icy conditions.
7. Weather-proof
All of these incredible benefits of an artificial vertical garden mean you can enjoy your lawn all year round, whatever the weather, whatever the season. From playing sports on the turf to celebrating events, Aavana Greens artificial turf enables you to get more use out of your garden. Often we neglect our gardens in the winter, but with a beautiful artificial grass lawn, you'll want to spend as much time in it as you can.
Install Aavana Greens Artificial Turf this Winter!
There are so many amazing reasons to transform your garden with Aavana Greens , so get in touch with us today to install your artificial lawn this winter .
If you want to convert you garden to a Artificial Vertical garden Contact/Visit https://aavanagreens.in/